Intervenciones en la arquitectura religiosa patrimonial en Croacia tras el Concilio Vaticano II
Palabras clave:
arquitectura sagrada, patrimonio cultural, Iglesia católica, Concilio Vaticano II, Croacia
Resumen
Durante el Concilio Vaticano II, Croacia formaba parte de Yugoslavia. Un nuevo sistema político promovió una cosmovisión atea. El resultado de ese proceso fue una relación de mutua hostilidad entre la Iglesia y el gobierno oficial, y una profunda división de la Iglesia y la sociedad. Esto derivó en intervenciones extrañas en el campo de la arquitectura sagrada. La mayoría de las intervenciones ocurrieron en las adaptaciones de santuarios después del Concilio Vaticano II. Muchas de ellas reflejaban la falta de cooperación entre expertos.
El cambio del sistema político ocurrió en 1990. El nuevo sistema democrático trajo libertad a las religiones, pero la nueva guerra desestabilizó nuevamente a la sociedad. El resultado fue un boom en la construcción de edificios sagrados que refleja la crisis de ese momento. En la última década, la situación está cambiando debido a las iniciativas que reúnen a teólogos, liturgistas, arquitectos, conservadores de arquitectura y artistas que trabajan en los edificios sagrados.
Descargas
Los datos de descarga no están aún disponibles.
Referencias
Akmadža, Miroslav. 2013. Catholic Church in Communist Croatia 1945-1980. Slavonski Brod: Despot Infinitus.
Batelja, Juraj. 2017. Communist persecution and martyrdom of Blessed Alojzije Stepinac. Zagreb: Postulatura blaženoga Alojzija Stepinca.
Berglund, Bruce R. and Brian Porter-Szûcs. 2010. Christianity and Modernity in Eastern Europe. Budapest/New York: Central European University Press.
Bužancic, Radoslav. 2011. Split Cathedral. Zagreb: Turisticka naklada.
Corak, Željka and Ana Deanovic. 1988. Zagreb Cathedral. Zagreb: Globus/Kršcanska sadašnjost.
Damjanovic, Dragan. 2016. «Towers of Zagreb Cathedral. Symbols of Zagreb». Zagreb moj grad 59: 12-17.
Duplancic, Arsen. 2016. «Renovation of the main altar of the Split Cathedral in the 17th century». Prilozi povijesti umjetnosti u Dalmaciji 43(1): 303-334.
Fiamová, Zortavili Martina and Jakubèin, Pavol. 2009. Persecution of Churches in the Communist Countries in Central and Eastern Europe. Anthology of the international conference Bratislava September 30 – October 2, 2009. Bratislava: Ústav pamäti národa.
Fiskovic, Cvito. 1976. Hvar Cathedral. Split: Cakavski sabor.
Horvat, Zorislav. 2008. «The course of construction of Zagreb cathedral». In Božic u Ciboni, edited by Božo Rudež, 144-156. Zagreb: KK Cibona/Zagrebacka katedrala.
Horvat-Levaj, Katarina, ed. 2014. Cathedral of Our Lady in Dubrovnik. Zagreb: Institut za povijest umjetnosti.
Horvat-Levaj, Katarina. 2004. «Cathedral of St Theresa in Požega». Radovi Instituta za povijest umjetnosti 28: 208-231.
Horvat-Levaj, Katarina. 2010. «Baroque architecture». In Croatian Art. History and Monuments, edited by Milan Pelc, 249-287. Zagreb: Institut za povijest umjetnosti/Školska knjiga.
Ivancevic, Radovan. 1998. «Proportions of the Trilobe Renaissance Facades in Croatia». Peristil 41: 59-68.
Ivanovic, Marin. 2014. «Nove smjernice za uredenje svetišta». In Cathedral of Our Lady in Dubrovnik, edited by Katarina Horvat-Levaj, 489-492. Zagreb: Institut za povijest umjetnosti.
Jurkovic, Miljenko. 1992. «'Doppelkapelle' od St Quirinus in Krk. Achbishop chapel with double function». Prilozi povijesti umjetnosti u Dalmaciji 32(1): 223-235.
Kovacic, Kuzma. 1996. «My sculptural interventions in the renovation of the Hvar cathedral». In Bogoslužni prostor- Crkva u svjetlu teologije, arhitekture i umjetnosti (Book of conference Savjetovanje za upravitelje crkava, arhitekte i umjetnike, Split 17-18 october 1995), edited by Bernardin Škunca, 147-151. Zadar: Hrvatski institut za liturgijski pastoral.
Kraševac, Irena. 2016. «Neogothic instead of Baroque. The altars of Zagreb cathedral». Zagreb moj grad 60: 18-22.
Markoviæ, Vladimir. 2008. «The facade of the cathedral of Hvar». In Renesansa i renesanse u umjetnosti Hrvatske (Book of conference Dani Cvite Fiskovica II), edited by Predrag Markoviæ and Jasenka Gudelj, 269-280. Zagreb: Odsjek za povijest umjetnosti Filozofskog fakulteta Sveucilišta u Zagrebu.
Mataušic, Juraj Mirko. 2006. «Acceptance of the Second Vatican Council in Croatia». Casopis za suvremenu povijest 2(38): 499-521.
Matulic Bilac, Žana. 2016. «Glavni oltar splitske katedrale uznesenja Blažene djevice Marije - tehnološke i kronološke analize». Godišnjak Hrvatskoga restauratorskog zavoda 7: 49-84.
Mikic, Anto. 2017. «The Second Vatican Council and the postconciliar renewal in paper Glas Koncila from 1963 to 1972». Obnovljeni život 4(72): 443-458.
Pelc, Milan. 2007. Renesansa. Zagreb: Naklada Ljevak.
Premerl, Tomislav. 1996. The new church architecture in Zagreb. Zagreb: Galerija Modulor.
Premerl, Tomislav. 2010. «The Sacred Architecture of the Twentieth Century in Croatia». In Hrvatska arhitektura u XX. Stoljecu (Book of conference, Zagreb, 8-10 november 2007), edited by Tomislav Premerl, 211-225. Zagreb: Matica hrvatska.
Prijatelj-Pavicic, Ivana and Lovorka Coralic. 2002. «Contribution to the Knowledge of Baroque Altars in Split Cathedral». Radovi Instituta za povijest umjetnosti 26: 69-87.
Prtenjak, Ivan. 1989. «Reconstruction of the interior of the Dubrovnik cathedral». In Obnova Dubrovnika 1979-1989, edited by Snješka Kneževic, 336-338. Zagreb: Zavod za obnovu Dubrovnika.
Šimunic, Ivana and Marina Šimunic-Buršic. 2015. «Svod sakristije zagrebacke katedrale», Prostor 2(50): 344-353.
Sokol-Gojnik, Zorana and Igor Gojnik. 2019. «Lendmark Phenomenology of Sacred Architecture as Cultural Heritage». In Cultural Urban Heritage. Development, Learning and Landscape Strategies, edited by Mladen Obad-Šcitaroci, Bojana B. Obad-Šcitaroci and Ana Mrda, 289-303. Cham: Springer.
Sokol-Gojnik, Zorana and Mladen Obad-Šcitaroci. 2015. «Zagreb's liturgical architecture of modernism between the two world wars». Prostor 2(50): 265-275.
Sokol-Gojnik, Zorana. 2017. «Sacred architecture of Zagreb in 20th century». Zagreb: Faculty of Architecture and UPI2M Books.
Urbán, Erzsébet and Zoran Vukoszávlyev. 2016. «Resistance to oppression. Case study of the Hungarian Catholic Church Architecture 1945-1989». In 14th International DoCoMoMo Conference. Adaptive Reuse, edited by Ana Tostões and Zara Ferreira, 576-581. Lisbon: DoCoMoMo International.
Urbán, Erzsébet. 2019. «Preservation of sacral heritage by learning from the paSt Church building reconstructions in Hungary in the 1960s and 1970s». In Professionalism in the Built Heritage Sector. Reflections on Cultural Heritage Theories and Practices, vol. 4, edited by Koen Van Balen and Aziliz Vandesande, 147–154. London: CRC Press/Balkema.
Vukoszávlyev, Zorán. 2014. «Church At The Border - Church Architecture in Hungary from the start of 20th Century: Architettura di chiese in Ungheria nel XX secolo - Chiese sul confine». In Arte Architettura Liturgia Esperienze internazionali a confronto 6, edited by Giorgio Della Longa, Antonio Marchesi and Walter Zahner, 17-41. Venezia: AlcionEdizioni.
Vukoszávlyev, Zorán. 2015. «Perception of Latin America's church architecture in the time of II Vatican Council – Studies from East-Central Europe». In Actas de Arquitectura Religiosa Contemporánea 4: 46-53. https://doi.org/10.17979/aarc.2015.4.0.5118.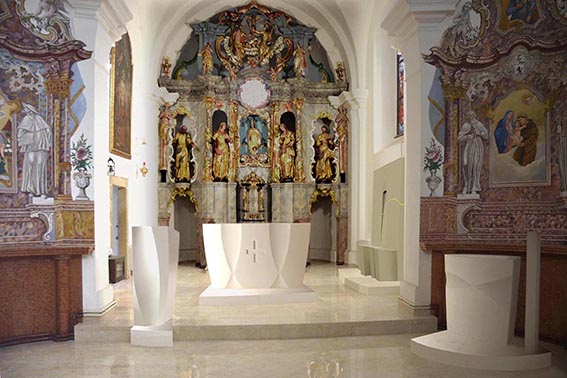 Cómo citar
Sokol-Gojnik, Zorana, Igor Gojnik, y Marija Banić. 2019. «Intervenciones En La Arquitectura Religiosa Patrimonial En Croacia Tras El Concilio Vaticano II». Actas De Arquitectura Religiosa Contemporánea 6 (diciembre):114-29. https://doi.org/10.17979/aarc.2019.6.0.6232.
Derechos de autoría 2019 Actas de Arquitectura Religiosa Contemporánea
Esta obra está bajo licencia internacional
Creative Commons Reconocimiento-NoComercial 4.0
.