Requisitos, calidades y soluciones
Remodelación de espacios litúrgicos después del Vaticano II en Hungría
Palabras clave:
Hungría, Concilio Vaticano II, teoría versus práctica, metodología arquitectónica, Carta de Venecia
Resumen
Después de la Segunda Guerra Mundial, la propiedad eclesiástica se redujo drásticamente en Hungría. El Concilio Vaticano II dio una intensa motivación e impulso al avivamiento psíquico-espiritual de las comunidades. La preservación de la herencia religiosa recibió cierta atención profesional y estatal. La investigación arqueológica e histórica comenzó a ser exhaustiva en las capillas e iglesias medievales, y las obras de restauración o reconstrucción a menudo se vincularon con las intensas transformaciones interiores realizadas según el Vaticano II. La Carta de Venecia (1964) tuvo un efecto significativo en la metodología de preservación de monumentos. Analizando el enfoque teórico de la Carta de Venecia, se puede identificar un estrecho paralelismo con los aspectos arquitectónicos de la Constitución y la Instrucción del Vaticano II: respetar las partes antiguas con los nuevos añadidos, obviamente distinguibles, y crear obras de arte modernas con alta calidad artística. El documento examina casos de estudio para presentar similitudes entre la implementación práctica de las directivas y las líneas de actuación.
Descargas
Los datos de descarga no están aún disponibles.
Referencias
Bardoly, István and Andrea Haris, eds. 2019. Átalakulások. A liturgikus terek és a mûemléki érték. Budapest: Régi Épületek Kutatóinak Egyesülete.
Bouyer, Louis. 2000. Építészet és liturgia. Szeged: Agapé.
Cserháti, József, and Tamás Esze, eds. 1971. Egyházi épületek és mûtárgyak gondozása. Budapest: Képzõmûvészeti Alap Kiadó Vállalata.
Dercsényi, Dezsõ, Géza Entz, László Gerõ, József Gólya, and Mihály Párkányi, eds. 1960. Magyar Mûemlékvédelem I. 1949–1959. Budapest: Akadémiai Kiadó.
Dümmerling, Ödön, Mihály Détshy, László Császár, and Sándor Kuthy. 1960. «Egyházi mûemlékek helyreállítása». In Dercsényi et al., 97–119.
Dümmerling, Ödön. 1966. A Katolikus Egyház liturgikus reformjainak mûszaki vonatkozású problémái. Budapest: Hittudományi Akadémia.
Entz, Géza. 1964. «Mûemléki Albizottságok És Egyházmûvészeti Tanácsok Mûködése». In Dercsényi et al., 251.
Fehérváry, Jákó. 2008. «A pannonhalmi bazilika belsõ felújítása, átalakítása a bencés közösség szemszögébõl». Régi-Új Magyar Építõmûvészet. Utóirat–Post Scriptum 6: 41–44.
Fejérdy, András. 2016. Pressed by a Double Loyalty. Hungarian Attendance at the Second Vatican Council, 1959–1965. Budapest/New York: Central European University Press.
Guardini, Romano. 1997. The Spirit of the Liturgy. Translated by Ada Lane. New York: The Crossroad Publishing Company.
Guzsik, Tamás. 1988. Szakrális Terek Funkcióelemzése I–III. Budapest: Budapesti Mûszaki és Gazdaságtudományi Egyetem.
Hardy, Matthew, ed. 2011. The Venice Charter Revisited. Modernism, Conservation and Tradition in the 21st Century. Newcastle-upon-Tyne: Cambridge Scholars Publishing.
Horler, Miklós. 1968. «Középkori Templomok Helyreállítása, Nagybörzsöny. Építészek: Erdei Ferenc, Sedlmayrné Beck Zsuzsa». Magyar Építõmûvészet 2: 42–49.
Katona, Vilmos, and Zorán Vukoszávlyev. 2012. «Modern Tradition and Liturgy: The Ways of Modernism in Hungarian Church Architecture in 20th Century». Architektura a Urbanizmus 66: 2–23.
Katona, Vilmos. 2017. «The spatial dimension of liturgy. Historical and contemporary accounts of communio-space in Europe's Latin rite liturgical architecture». Építés-Építészettudomány 45: 173–213.
Klaniczay, Péter. 2019. «Az utóbbi évtizedek templom-helyreállítási tapasztalatai Pest Megyében». In Bardoly and Haris, 125–154.
Kránitz, Mihály. 2002. A II. Vatikáni zsinat dokumentumai negyven év távlatából. Budapest: Szent István Társulat.
Marosi, Ernõ. 2019. «Egyházi megbízók a mûemlékvédelemben». In Bardoly and Haris, 11–20.
OEMT, ed. 1968. A liturgikus berendezési tárgyak és eszközök mûvészete. Budapest: Országos Egyházmûvészeti és Mûemléki Tanács.
Pákozdi, István. 2013. «A II. Vatikáni zsinat liturgikus változásainak egyházmegyei recepciója». Praeconia 8 (2): 60–68.
Schloeder, Steven J. 1998. Architecture in Communion: Implementing the Second Vatican Council Through Liturgy and Architecture. San Francisco: Ignatius Press.
Somorjay, Sélysette. 2019. «A II. Vatikáni zsinat hatása a liturgikus terekre». In Bardoly and Haris, 21–42.
Urbán, Erzsébet. 2017. «Church architecture and socialism. Striking building structures in the Hungarian Catholic churches of the 1970 and 1980s». In Content–Form. International Conference for Doctoral Students, edited by Magdaléna Nová and Marie Opatrná, 79–88. Prága: Univerzita Karlova v Praze.
Urbán, Erzsébet. 2019. «Preservation of sacral heritage by learning from the past. Church building reconstructions in Hungary in the 1960s and 1970s». In Professionalism in the Built Heritage Sector. Reflections on Cultural Heritage Theories and Practices, Vol. 4, edited by Koen Van Balen and Aziliz Vandesande, 147–154. London: CRC Press/Balkema.
Vukoszávlyev, Zorán, and Erzsébet Urbán. 2014. «Community and Space: the interpretation of a community space located at an ancient sacral place». In XXXVIIè Curset. Patrimoni Sacre: Permanent Innovació. Barcelona 11-14 December, edited by Ricardo Gómez-Val. Accessed on 09/09/2019, http://bit.ly/2E3dLZm.
Vukoszávlyev, Zorán. 2012. «A téri minimum teljessége: John Pawson térinstallációja Pannonhalmán/The complexity of spatial minimum: Spatial installation by John Pawson in Pannonhalma». Régi-Új Magyar Építõmûvészet XX (3): 9–14.
Vukoszávlyev, Zorán. 2015. «Perception of Latin America's church architecture in the time of II Vatican Council. Studies from East-Central Europe/La percepción de la arquitectura eclesial latinoamericana en la época del Concilio Vaticano II. Estudios desde la Europa centro-oriental». In Actas de Arquitectura Religiosa Contemporánea 4: 46–53. Accessed on 09/09/2019. doi:10.17979/aarc.2015.4.0.5118.
Zsembery, Ákos. 2015. «Az 50 éves Velencei Charta újra felfedezett öröksége: A 'kritikai restaurálás'». Építés–Építészettudomány 43 (3–4): 365–382.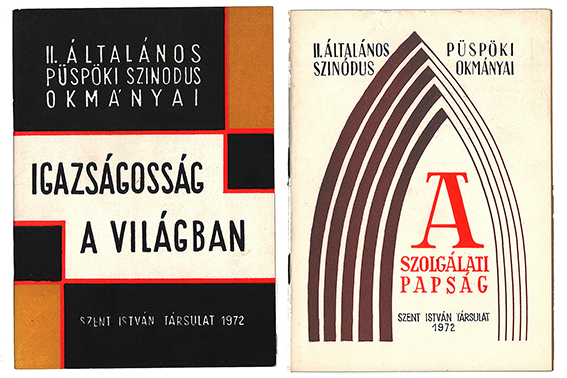 Cómo citar
Urbán, Erzsébet. 2019. «Requisitos, Calidades Y Soluciones: Remodelación De Espacios Litúrgicos después Del Vaticano II En Hungría». Actas De Arquitectura Religiosa Contemporánea 6 (diciembre):130-43. https://doi.org/10.17979/aarc.2019.6.0.6233.
Derechos de autoría 2019 Actas de Arquitectura Religiosa Contemporánea
Esta obra está bajo licencia internacional
Creative Commons Reconocimiento-NoComercial 4.0
.