'Donde sea que unos pocos se reúnan'
El Movimiento Litúrgico y el Vaticano II como fuente para la transformación arquitectónica de las iglesias en el contexto de la reutilización
Palabras clave:
reutilización adaptativa, Movimiento Litúrgico, Concilio Vaticano II, comunidad, investigación por diseño
Resumen
Debido a un proceso de secularización, muchas comunidades parroquiales necesitan redefinir el uso de su iglesia, reduciendo el espacio litúrgico e incorporando otras funciones. En esta contribución, elaboramos el proceso de adaptación de las iglesias existentes a esta realidad. Argumentamos que los conceptos espaciales desarrollados por el Movimiento Litúrgico en el contexto del Vaticano II pueden convertirse en fuentes de inspiración. Primero, definimos las características relevantes de la reforma, instigadas por figuras como el teólogo Romano Guardini y el arquitecto Rudolf Schwarz. En segundo lugar, mostramos cómo se pueden aplicar estas características en el caso de la iglesia de la Magdalena, en Brujas (Bélgica). En lugar de restaurar la iglesia neogótica del siglo XIX, tratamos de traducir su tipología y calidad contrastada en un espacio contemporáneo para la liturgia y la comunidad, al tiempo que abrimos la iglesia a su entorno.
Referencias
Baisier, Claire. 2016. Divine Interiors: Experience Churches in the Age of Rubens: Exhibition Guide. Mayer van den Bergh Museum: Stad Antwerpen.
Bekaert, Geert. 1967. In een of ander huis: kerkbouw op een keerpunt. Tielt/The Hague: Lannoo.
Beauduin, Lambert. 2010. «La vraie prieire de l'Église». Questions Liturgiques/Studies in Liturgy 91/1: 37–41.
Bouyer, Louis. 1954. Liturgical Piety. Notre Dame: University of Notre Dame Press.
Debuyst, Frédéric. 1968. Modern Architecture and Christian Celebration. Ecumenical Studies in Worship 18. London: Lutterworth Press.
Debuyst, Frédéric. 1997. Le genie chrétien du lieu. Paris: Cerf.
Debuyst, Frédéric. 2008. L'entrée en liturgie: Introduction à l'oeuvre liturgique de Romano Guardini. Paris: Cerf.
Grafe, Christoph. 1997. «Kale waarheid: Fysieke ervaring en essentie in de architectuur van Rudolf Schwarz». OASE 45/46: 3-27.
Guardini, Romano. 1947 (1939). Besinnung vor der Feier der Heiligen Messe. Mainz: Matthias-Grünewald.
Guardini, Romano. 2007 (1918). Vom Geist der Liturgie. Augsburg: Grünewald/Schöningh.
Haquin, André. 2005. «The Liturgical Movement and Catholic Ritual Revision». In The Oxford History of Christian Worship, edited by Geoffrey Wainwright and Karen B. Westerfield Tucker, 696-720. New York: Oxford University Press.
Höslinger, Norbert and Theodor Maas-Ewerd. 1979. Mit Sanfter Zahigkeit: Pius Parsch Und Die Biblisch-Liturgische Erneuerung. Schriften Des Pius-Parsch-Instituts Klosterneuburg, 4. Klosterneuburg: Österreichisches Katholisches Bibelwerk.
Jungmann, Josef. 1951 (1949). The Mass of the Roman rite: its Origins and Development (Missarum Sollemnia). Translated by Francis A. Brunner. New York: Benzinger.
Morel, Anne-Françoise and Stephanie Van de Voorde. 2012. «Rethinking the Twentieth-Century Catholic Church in Belgium: the Inter-Relationship Between Liturgy and Architecture». Architectural History 55: 269-297.
Panofsky, Erwin and Gerda Panofsky-Soergel. 1979. Abbot Suger on the Abbey Church of St. Denis and its Art Treasures. Princeton: Princeton University Press.
Reid, Alcuin. 2016. «The Twentieth-Century Liturgical Movement». In T&T Clarck Companion to Liturgy, edited by Alcuin Reid, 153-174. London/New York: Bloomsbury.
Schwarz, Rudolf. 1958. The Church Incarnate: The Sacred Function of Christian Architecture. Translated by Cynthia Harris. Chicago: Henry Regnery Company.
Schnell, Hugo. 1973. Der Kirchenbau des 20. Jahrhunderts in Deutschland. München & Zürich: Schnell und Steiner.
Vande Keere, Nikolaas, Regis Verplaetse, Saidja Heynickx, Jo Broekx, Marcella Schiepers, Bie Plevoets and Koenraad Van Cleempoel. 2019. Heilige Magdalenakerk Brugge Ontwerpend haalbaarheidsonderzoek nav de transformatie van de Heilige Magdalenakerk voor herwaardering. Report of a commissioned research by design project concerning the Magdalena church, Bruges (Belgium).
Verheul, Ambrosius. 1961. Inleiding tot de liturgie: haar theologische achtergrond. Antwerpen: Patmos.
Woods, Kim W. 2013. Art & Visual Culture 1100-1600: Medieval to Renaissance. Milbank: Tate Enterprises Ltd.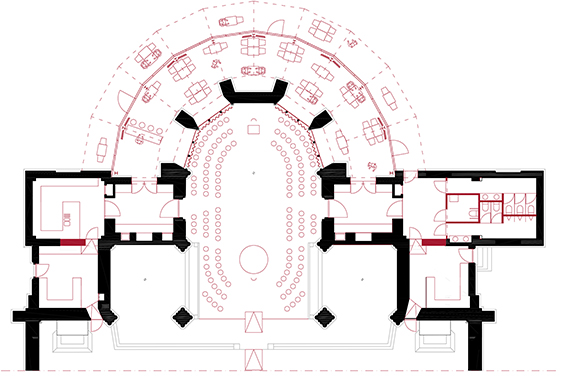 Cómo citar
Vande Keere, N., Plevoets, B., & Goyvaerts, S. (2020). 'Donde sea que unos pocos se reúnan': El Movimiento Litúrgico y el Vaticano II como fuente para la transformación arquitectónica de las iglesias en el contexto de la reutilización. Actas de Arquitectura Religiosa Contemporánea, 7, 36-51. https://doi.org/10.17979/aarc.2020.7.0.6289
Esta obra está bajo una licencia internacional
Creative Commons Reconocimiento-NoComercial 4.0
.